Race Report
National 24 Hour Challenge, Middleville, Michigan, 15-16. June 2019
[Strava Link]
So I went to this race in Michigan that I believe is the closest 24 hour road cycling race for me. It's a bit of a drive to get there (1,000km). I had done it before last yeast and really liked it – it's about 250 riders each year; not too big, not too small. It's a really neat concept, having three different loops on which riders can accumulate miles: first riders complete the 194km loop #1 once, then then move on to the 36km loop #2, which they ride, depending on their speed between 1 and 5 times and then between 7 and 8pm they move to the 12.5km loop #3 which they do as often as they want until the event is over at 8am. Only completed loops count towards mileage.
Anyways, last year, I went a bit too hard on loop #1, going with the first 3 person break and paying the price later. I also had a whopping 6 flats (turns out my rim tape had a rough spot) which cost me a lot of time. I managed to accumulate 415.5miles/668.7 km last year, which earned my an age group bronze and a 19th out of 230 overall placement. So my plan for this year was to not repeat the mistakes of last year (going with a small breakaway group, having 6 flats) and beating my previous numbers, with a stretch goal of beating 700km. Essentially, for me the race went down in three phases, which I call: Loop #1, Train Engine, Dark Place.
Phase 1: Loop #1. The race started 18 mins late due to a traffic accident on the route (not related to the race) and then we were subject to a detour around the site of the accident. I stayed up close to the front, to be able to see any break outs and to judge, by their size, whether I wanted to join them. The "pack" – perhaps 20-25 riders up front – stayed together pretty well, at some point toward the end of the first hour I did a little solo break for 10 minutes or so, to get the need to be in front out of my system, which was a good idea in hindsight because during that time there was a crash of a few riders in a sharp left turn. Anyhow, once that was out of my system, I tried to find a good spot not too far to the front and not too far back, which was hard because there were a few people up front who were really going super hard and then a number of others that were better matched to what I wanted to do but were not very consistent with sticking with the group, so it felt hard to find a consistent pace and to establish a consistent pace line. For a while it worked though, at the best point we had a 11 person pace line going with only 15 seconds pulls each, but then we ended up dropping people and the group shrank to 6, then 5, then 4. By that time, I think there was another 2 or 3 person lead group ahead of us. It was challenging to stay with that group, especially since the person who's turn it was to pull right after me was going way too strong, so it always was a struggle to hold on right after my own pull. I also felt that I was going too hard and that the scars from my minor surgery just 8 weeks ago would come undone. But on the other hand, riding with a group is just so much faster, so I decided to stick with them until the end of the first loop for sure. So I did that, and we completed the 194km loop in 5:39:14 at an average speed of 34.3kph. For me, the intensity was 86% of FTP, which is borderline fine for a 194km ride but obviously not sustainable for a 24 hours race. Loop #1 is also the hilliest of the loops with a 1015m total elevation differential.
Phase 2: Train Engine. So after restocking food and drink at the checkpoint at the end of loop #1, the same group got back together to ride loop #2 together. The same problem persisted – it was just a bit too hard to properly work for me. But riding with a group is just so much efficient than riding by yourself, so I went with them. However, the two bagels that I had eaten at the checkpoint at the end of loop #1 wanted to be digested so I felt a lot of the energy being redirected from the legs to the stomach and it became harder and harder to keep up (and feeling more and more vomitty). So somewhat reluctantly, I let them go. My estimation was that, including these three, there were about 6 or 7 people ahead of me at that point. The rest of that 36km loop was spent feeling a bit crappy, worried about my surgery scars, and finding my legs and my pace. Once I found it though, the next time going around that loop (and the next, and the next), it felt amazing and I just spend most of my time low in the aerobars, putting out consistent effort and flying along. Nice. I felt like a train engine, strongly chugging along at a consistent pace and unstoppable. Weather is also ok, 16°C perhaps a smidge lower than I would have picked if somebody would have asked my opinion, especially in a sleeveless tri top, but completely and thickly overcast sky meant that I didn't have to worry about sunscreen. During the 3rd time doing the loop, it started to rain (sprinkle, really), which is not ideal in the cold. I ended up doing loop #2 4 times, in averaging 31.4 kph, with a 73% intensity. After the fourth time, I still would have had enough time for one more go-around loop #2, but loop #3, the night loop, was already open by that time and since #3 is quite a bit flatter than #2, it seemed a no brainer to move to #3. In hindsight, doing #2 one more time could have given me the chance to tie with the person who ended up only 1.2miles ahead of me, both overall and in my age group. Next time. Once I started to move to the night loop, the locomotive feeling stuck with me. It's a good feeling. The night loop is very flat, with one downhill section where you can rest in an aerotuck for half a minute and one annoying, but short, uphill section. All turns are right turns and the five turns/intersections of the loop have flood lights installed and police officers all night to stop the little traffic there is and let riders through. I got into a pretty good rhythm, doing three loops, then stopping for support (pulling into the station) to get my Gatorade bottle swapped, take an electrolyte capsule and get a bagel and/or cliff bar and an apple. The drizzle started to annoy me a bit, since I was quite cold for like half a loop after each stop. Temps had dropped to 12°C by now and I was completely drenched. Around 10pm, 14 hours into the ride, I started to get pretty clear signals from my stomach that no more solid foods, with the possible exception of bananas, would be accepted from here out. I nearly puked trying to eat a cliff bar and eating a bagel seemed way out of reach. The rain stopped around 11pm and at midnight the roads were dry enough that I felt it was worth changing into dry clothes. OMG. Dry Clothes! A whole new fabulous world of not being cold. It felt really good having my own rhythm. I passed people all the time; sometimes I happened upon somebody not much slower than me, so I checked if we could do some mutual drafting but if never worked for more than a few kms. That was fine though because being alone with your thoughts, your body and your rhythm, for hours and hours through the night, is just such an enjoyable experience.
Phase 3: Dark Place. Around 3:30am (4.5 hours before the end of the race), my support people told me that I am currently in fourth place overall, with only a sliver of margins between me and the person ahead of me, and a solid two laps between me and the person behind me. That made me spend the next little while doing a bunch of calculations in my head and reformulating my strategy for the last four hours. I knew that I can do a lap in 30 minutes with reasonable effort and as fast as 25 mins if I really put down my head and worked very hard. I still needed to allow for some time for refueling stops and checkpoints, so that 8 laps in 4 hours seemed doable but not a slam dunk, while 9 seemed pretty much out of reach. 8 more laps would also tie me with my results from last year, which is not what I wanted but with the wet and cold conditions were much more challenging this year, so there I had my excuse. I figured that if I managed to average 28kph over the first 4 laps, I could let it drop to 26kph for the next 2 and to 25kph for the last 2. Managing that, I was guaranteed my current placement, and whether or not I could increase my rank by one spot depended on how many laps the other person would pull off. Managing a 28kph average after 20+ hours in the saddle was not super easy, however, especially with probably every last carbohydrate in my body burned by now. I needed to dig pretty deep and my thighs in particular starting to hurt pretty bad, as did my lower back. I stretched the back whenever I got a chance and it got quite a bit better, though the thighs still wanted me to stop. The 2 hours between 4 and 6 were pretty dark both literally and figuratively and it took a lot to keep the effort consistent. Once the sun started to come up, the euphoria of knowing it's over soon started to help, but turning over those cranks kept getting harder. Halfway into the second to last lap, two riders came up from behind at a decent clip, so I grabbed their wheel. Turns out they had been taken it easy overnight and now wanted to burn off the rest of their energy. Worked for me since they didn't even want to take turns with me on the pulls. So I got in at 7:46am, which was not enough for one more lap, but had the race not started 18 mins late, I could have easily squeezed one more in (this is just me justifying how it's ok not having beat last year's figure)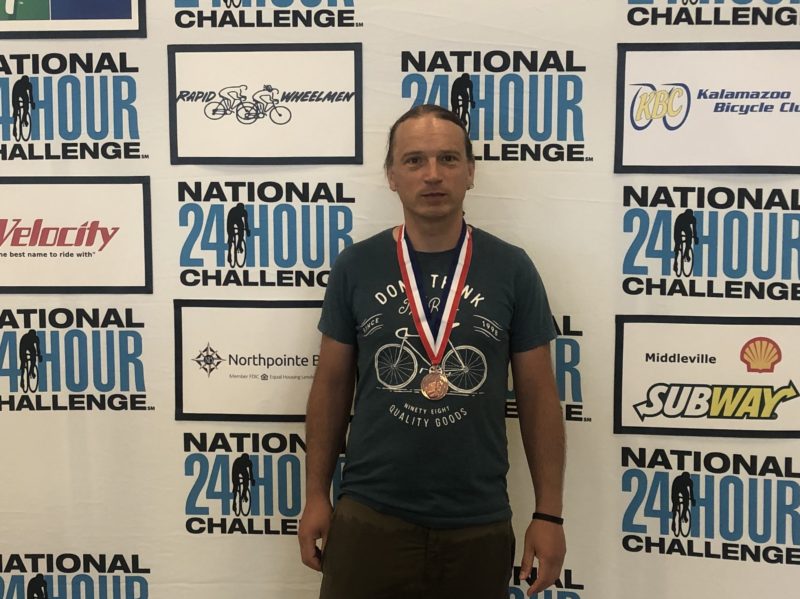 So results. My official mileage was 415.5miles, 668.7km, in 21:55:52 moving time, at an average of 30.3kph and an overall intensity of 74% of FTP. I didn't manage to change the standings relative to where they were at 4am and ended up 3rd in my age group, 4th overall, with only 1.2miles behind the person in front of me. This is much better than last year, where I placed 19th overall (though still 3rd in the age group). The wet and cold conditions certainly played a role, but also I got much less training done this year compared to last due to the surgery (last year at the time of the race I had 4,200km under my belt since January, this year only 2,100). I'm very happy with the result, and cannot recommend this race enough. It's superbly organized, has an amazing spirit on the course and off and is a great challenge and additional to any race calendar.
By